MAXCAP Resources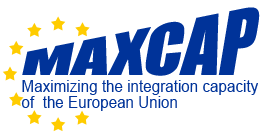 MAXCAP resources compile relevant primary and secondary information concerning previous and current enlargements and relations with the EU neighbours.
It contains links to treaty texts, institutional documents, EU- and country-level databases, studies, progress reports, etc. The website is continuously updated with new documents on EU integration capacity in the context of enlargement and the neighbourhood. To facilitate access to the compiled documents, MAXCAP sources are integrated in the folders below.
General resources
external pageApplication of EU lawcall_made
Information about the Commission's activities regarding monitoring national implementation of EU legislation
external pageAnnual reports on national implementation of EU lawcall_made
The Commission's annual reports (1998 - 2011) recording member states' implementation progress and infringement cases opened against non-compliance
external pageEUR-Lex: Access to European Union Lawcall_made
A database containing texts to EU legislation, as well as references to implementation measures reported by member states' national authorities regarding EU directives
external pageImplementation - Database of quantitative (statistical) studies of transposition, implementation and compliance with EU lawcall_made
A database containing information about existing academic quantitative research on the application of EU law in the member states
external pageCompliance - Database of case studies of transposition, implementation and compliance with EU lawcall_made
A new database reviewing the qualitative literature on EU compliance and implementation

Policy-specific resources
external pageStudy on the implementation of the Information Society Directive (2001/29/EC)call_made
Country reports regarding the level of compliance with the Directive including an overview of the European legislative history, an overview of the national laws and a brief overview of relevant literature and case law regarding the Directive.
external pageEC Consumer Law Compendiumcall_made
Access information on eight consumer law directives, their transposition into the laws of 27 EU Member States, including case-law, bibliography and a comparative study
external pageSingle Market Scoreboardcall_made
Performance overviews for all Member States regarding Single Market policies, including the results that have been achieved, the feedback received and conclusions drawn, providing a basis for future action
external pageInternal Market Scoreboardscall_made
Links to documents and statistics regarding current and previous editions of the Single Market Scoreboard
external pageEuropean Union Network for the Implementation and Enforcement of Environmental Lawcall_made
An international non-profit association of the environmental authorities of the European Union Member States, acceding and candidate countries of the EU, EEA and EFTA countries, information on best practices, EU and country-specific projects

Implementation of non-discrimination directives
external pageEuropean Anti-Discrimination Legal Networkcall_made
external pageNon-Discrimination in the European Union: (part II)call_made
external pageNon-Discrimination in the European Union: (part II)call_made
external pageNon-Discrimination in the European Union: (part III)call_made
Country-Level Indices
external pageFreedom House: 'Freedom in the World Index'call_made
Indicators: political rights, civil liberties
external pageCenter for Systemic Peace: 'Polity IV data series'call_made
Indicators: executive recruitment, constraints on executive authority, political competition
external pageThe Economist, Intelligence Unit: 'Democracy Index'call_made
Indicators: electoral process and pluralism, functioning of government, political participation, political culture, civil liberties
external pagePolitical Risk Services Group: 'International Country Risk Guide. Bureaucratic Qualitycall_made
Indicators: expertise of government, autonomy of bureaucracy, recruitment and training, policy formulation, administrative functions
external pageWorld Bank: 'Worldwide Governance Indicatorscall_made
Indicators: quality of public services, the civil service and policy formulation and implementation, degree of independence of the civil service from political pressures, credibility of government's commitment to policies
external pageBertelsmann Stiftung: 'Transformation Index BTI'call_made
Indicators: political and economic transformation, management of transformation
external pageDemocracy Ranking Association: 'Democracy Rankingcall_made
Indicators: political system, gender, economy, knowledge, health, environment
external pageThe European Policies Initiative Catch Up Indexcall_made
Indicators: countries' level of convergence or divergence along four categories: economy, quality of life, democracy and governance

Documents, reports, policy initiatives, etc
external pageCouncil Decision of 18 February 2008 on the Principles, Priorities and Conditions Contained in the European Partnership with BiH and Repealing Decision 2006/55/EC', 2008/211/EC', Official Journal of the EU, L80, 19 March 2008call_made
external pageEuropean Commission (2005) 'Guide to the Main Administrative Structures Required for Implementing the Acquis', Informal Working Document For Guidance Onlycall_made
external pageMetreveli, E. and Kulick, J. (2009) Country case study: Georgia Social Relations and Governance in Javakheticall_made
external pageMarina Skrabalo, GONG Research Centre: "Transparency in retrospect: preliminary lessons from Croatia's EU accession process", Discussion paper commissioned by the Greens / EFA in the European Parliament, Zagreb, November 8, 2012call_made
external pageMaja Bozic, Relja Bozic, European Movement Serbia: Civil society in the European integration process – from constructive dialogue to successful negotiations, October 2012, Belgradecall_made
external pageEuropean Policy Institute: Use of EU funds in Macedonia: Efficiency, Impact, and Absorption Capacity, Case studies, October 2012call_made
external pageParliamentary Challenges in the EU Accession Processcall_made
European Neighbourhood Policy (ENP)
Key documents
external pageThe European Neighbourhood and Partnership Instrument (ENPI)call_made
The ENPI was launched in January 2007, pioneering principles such as "joint ownership" are promoted through the ENP, and an innovative funding mechanism.
external pageEuropean Neighbourhood Instrument (ENI)call_made
From 2014, the ENPI will be replaced by the European Neighbourhood Instrument (ENI), an increasingly policy-driven instrument, which will provide for increased differentiation, more flexibility, stricter conditionality and incentives for best performers.
external pageCommunication for a Partnership for Democracy and Shared Prosperity with the Southern Mediterraneancall_made
external pageENP Country Action Planscall_made
The ENP action plans (or Association Agendas for Eastern partner countries) set out the partner country's agenda for political and economic reforms, with short and medium-term priorities of 3 to 5 years reflect the country's needs and capacities, as well as its and the EU's interests.

external pageProgress reports (2006 -2013)call_made
Annual reports assessing the progress made towards the objectives of the Action Plans and the Association Agendas

external pageEuroMed Portalcall_made
Portal for news and information about EU cooperation with its Southern Neighbours

external pageEuroEast Portalcall_made
Portal for news and information about EU cooperation with its Eastern Neighbours

Country pages summarizing the EU's involvement in the region, policy initiatives, links to specific documents
EU relations with the Western Balkans
Key documents
external page2005 Enlargement Strategy Papercall_made
external page2006 Enlargement Strategy Papercall_made
Enlargement Strategy and Main Challenges 2006 – 2007 including annexed special report on the EU's capacity to integrate new members
external page2012 Enlargement Strategy Papercall_made
Enlargement Strategy and Main Challenges 2012-2013 with increased emphasis on rule of law areas
external pageEU External Action: The Western Balkanscall_made
General information about the EU relations with the Western Balkans with links to EU Delegations in individual countries
external pageProgress reportscall_made
Database with reports, strategy papers and conclusions regarding candidate countries' progress to EU membership
Countries
Country profile pages with general information about membership status and additional links to country-specific information
EU-Turkey relations
Key documents
external pageThe 1963 Ankara Treatycall_made
Agreement Creating An Association Between The Republic of Turkey and the European Economic Community (Ankara Agreement, 1963)
external pageAdditional Protocol (1970)call_made
external pageCustoms Union Decision (1/95)call_made
Key European Council presidency conclusions on Turkey's accession to the EU
The European Commission's Progress Reports on Turkey from 1998 to 2012
EU Accession Partnership Documents with Turkey from 2001 to 2008
Government and civil society organizations active on EU enlargement
TESEV
A major civil society organization that is actively following the accession process and the EU's impact on Turkish social and political development
Standard Eurobarometer Surveys:
Information about EU citizens' awareness of enlargement, general support for EU membership and support for individual candidates, trust in EU institutions, attitudes towards the EU crisis-management strategy (2008 - 2012)
Special Eurobarometer Surveys:
Information about societal attitudes towards EU neighboring countries, awareness of and interest in relations and politics with EU neighbors
Flash Eurobarometer Surveys:
Information about EU citizens' views regarding the effect of the integration of 10 Central and Eastern European countries on the 27 Member States of the enlarged union, EU citizens' views about important factors regarding further enlargements
Other surveys:
external pageCentral and Eastern Eurobarometers (1990-1997)call_made
Annual surveys monitoring economic and political changes, as well as attitudes towards Europe and the European Union in up to 20 countries of the region
external pageEuropean Social Survey Data – Rounds 1-5 (2002-2010), Round 6 (released in Oct. 2013)call_made
Public attitudes and values within Europe, interest in politics, trust in politicians, trust in the European Parliament, immigration, citizenship and sociopolitical issues
external pageWorld Values Survey – Rounds 1-5call_made
Attitudes and values, confidence in the European Union, national identity
external pageGallup Balkan-Monitorcall_made
Views of the Balkans residents on living standards, happiness and attitudes towards the EU, employment opportunities, feelings about living abroad and the performance of their governments
Country-specific surveys:
Reports, documents, policy initiatives, etc:
In Mind Marketing Research (2003) 'Poll of Citizens of the Republic of Latvia on Integration of Latvia into the European Union', Report 4–7 September, Riga.
Commission of the European Communities (1978) 'General considerations on the problems of enlargement'. COM (78) 120 final, 18 April.
EU institutions
external pagePress Releases Databasecall_made
The database contains all press releases issued by the Commission, including press releases of some of the other European institutions: e.g., the Council of the European Union.
external pageEuropean Parliament's 'Think Tank' pagescall_made
An online platform that brings together all sources of EP expertise: Parliament studies, library briefings, impact assessment andEuropean added value papers, STOA and economic dialogue documentation, surveys on public opinion and EU fact sheets
EU-wide statistical information
external pageThe European Election and Referendum Databasecall_made
The database provides information about results from parliamentary elections, European Parliament elections, presidential elections, as well as EU-related referendums since 1990 for a total of 35 European countries.
external pageEUROSTAT databasecall_made
Statistical data on socioeconomic and structural factors within countries and country regions
external pageEurostat (2013) Key Figures on Enlargement Countriescall_made
Statistical data on demography, education, social conditions, labour force, national accounts, finance, international trade, agriculture, energy, industry and services, transport in the enlargement countries in comparison with the EU (2001-2011)
EU member states' statistical agencies
Enlargement-related EU documents:
external pageBrussels European Council, 16-17 December 2004call_made
external pageCopenhagen European Council, 12-13 December 2002call_made
external pageHelsinki European Council, 10-11 December 1999call_made
external pageCommission of the European Communities (1978) 'General considerations on the problems of enlargement'. COM (78) 120 final, 18 April.call_made